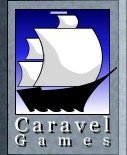 All content on site copyright © 2022 Caravel Games, All Rights Reserved.
Spring 2009 Smitemaster's Selection: Smitemaster for Hire

Smitemaster for Hire contains two puzzle-packed holds from master architects Jason Fedor and Rasmus Björling. Suit Pursuit is of medium difficulty. It picks up where Devilishly Dangerous Dungeons of Doom left off. Beethro is making his way back to Rooted Hold to learn about the Grand Event, but someone in the Empire seems to not want him to know about it. This time, a border checkpoint requires him to start taking his Imperial "profession" seriously. Hilarity -- and a lot of smiting -- ensues. A cast of new and old faces make an appearance along the way.
Complex Complex is a difficult hold that harkens back to the days when Beethro is running his famed Roasted Roach Grill after clearing out King Dugan's Dungeon. Beethro receives a call to infiltrate the secret base of a rogue architect. The price is right, but when Beethro finds himself pinned between two warring factions, will he find he has bitten off more roach meat than he can chew?
---