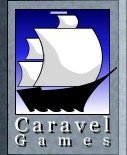 All content on site copyright © 2022 Caravel Games, All Rights Reserved.
About Us
We are an independent game studio. We strive to provide you with some of the best puzzle gaming experiences you can find anywhere. We create games that showcase the puzzle proper--mental challenges that must be solved with reflection, not mere reflexes. We are inspired to make original games that take large steps outside of the area that contemplative puzzle games currently occupy. If you haven't tried our games yet, there is a unique experience in store for you. DROD has received repeated praise as the "best puzzle game of all time". We want you to be the next to enjoy our games!
Caravel Games first released an open source remake of Deadly Rooms of Death in 2002, previously published by Webfoot Technologies. The original author, Erik Hermansen, rewrote the game from scratch so that it would be easier to maintain and enhance. As an open source project, DROD flourished with help from many contributors and a slowly-building cult of DROD-loving fanatics. Mike Rimer took over as development lead on DROD: Architects' Edition in 2003, and after finishing the release successfully it was decided that they would work as business partners to create commercial games together. Mike Rimer now runs Caravel Games and works tightly with the player community in producing new titles that fans will love.
Our games are a labor of love. In many ways, we support a by-fans, for-fans service model. We are always looking for enthusiastic, skilled individuals who love games and are interested in contributing to our upcoming releases.
---