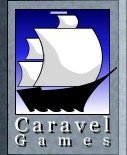 All content on site copyright © 2022 Caravel Games, All Rights Reserved.
Summer/Fall 2006 Smitemaster's Selection: Journey's End

Beethro comes to the end of the High Path, just outside Rooted Hold where the story continues in DROD: The City Beneath. Listening to popular demand, we turned the difficulty level down to give you and Beethro a break. One of the two holds included, Smitemastery 101 is an introductory adventure designed for children or perhaps just the less-determined. The other hold, Master Locks is brought to you in two different versions, normal and hard, so you can choose your challenge.
Disc Contents
Smitemastery 101 by Jacob Grinfeld
Master Locks by Larry Murk
This Pointless Thing Called Life - Chapter 1, an audio drama much in the style of Hitchhiker's Guide to the Galaxy.
Recorded interview with Erik Hermansen of Caravel Games.
Recorded interview with Joseph Leiberman, a marketing professional that did some work for Caravel Games.
I Saw Isosceles and I Don't Really Hate Putting Up the Christmas Tree--two songs written by Erik Hermansen. Includes lyrics and "karaoke" versions.
More freshly released indie games for Windows, Mac, and Linux.

Note: CDs for this issue have sold out and are no longer available. A download of just the holds can be purchased by clicking the "Buy Now" button below.


---