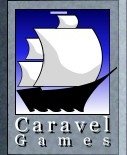 All content on site copyright © 2012 Caravel Games, All Rights Reserved.
DROD RPG on IndieGameStand - 08-17-2013
We have two great items of news for you this weekend.

First, by popular demand, we have an unprecedented promotion on IndieGameStand from August 16-19. We're offering DROD RPG: Tendry's Tale for whatever price you want. DROD RPG is a spinoff from the classic DROD series. It's an RPG-lite game that's heavy on puzzle solving and resource management: gather health, attack and defense power-ups in a hand-crafted dungeon of thirteen interconnecting levels. Enjoy Tendry's bluster and quick wit, but keep him alive long enough to upgrade his weapons and armor in order to come off conqueror. Find unique power-ups to unlock special challenges and go for a high score after each boss fight.

By picking up a copy, you can support Child's Play charity and Caravel in our efforts to develop DROD: The Second Sky.
But wait, there's more! If you pay above the average price (currently about $2), you'll receive some crazy bonus content with something for every DROD fan:

* A free copy of DROD: Gunthro and the Epic Blunder
* The Deadly Rooms of Death OST
* And a never before released DROD RPG OST
* Plus twenty-five minutes of exclusive DROD tracks written by Emmett Plant. This music is excellent and highly thematic. We say "exclusive" because they've never before been released. Caravel will be releasing the DROD RPG soundtrack sometime in the future at a normal rate, but this is your chance to get it in advance, together with all the rest, at a great price.
If you're interested in DROD RPG, DROD:GatEB, or want a copy of the soundtracks, then the time to act is now!

As indie developers, we appreciate the support of DROD fans everywhere. Please note that IndieGameStand is also giving away a free IndieGameStand t-shirt to the top three contributors. Read more about it on the site, and tell all your friends!

https://indiegamestand.com

Second (can you believe all that was just the first news item?), a limited-edition CD version of DROD:Gunthro and the Epic Blunder is now available for purchase. You can buy it on the Caravel Games website. If you've already bought the game for digital download, then we can provide you a deeply discounted copy, just above cost. To get the discount, please e-mail us, including either your forum username that the game is registered to so we can verify your original order, or please provide your original order receipt, and we'll send you a code for the discounted copy. There's only about a hundred copies available, so get yours before they're gone!

http://caravelgames.com/buyGatEB.html

Okay, enough marketing. Now it's back to work on TSS.

Happy DRODing!
---
DROD Summer Dream Bundle - 07-01-2013
If you're signed up for the Caravel mailing list in hopes of receiving a sweet deal on DROD games, you're in luck!

Pay what you want bundle

For the next couple of days, you can buy all of the classic DROD games in the "Indie Gala - Summer Dream" bundle. Pay what you want to get DRM-free copies of "King Dugan's Dungeon" and "Journey to Rooted Hold"! If you pay above the average, you will get a Desura key for "DROD: The City Beneath" and "DROD: Gunthro and the Epic Blunder".

Caravel gets a relatively small percentage of gross sales, and I'm not expecting that to amount to much, but I'm also excited about this bundle for two other reasons:

1. We can get the word out about DROD. Free advertising!

2. Fans who have been holding out for a deal can now snag some serious DROD goodness. (The first one's always free, right?)

If you're at all interested in this bundle, you shouldn't delay, because it will be gone soon:


http://indiegala.com/summerdream


Official Caravel Forum Contest: Completely Intended Solutions

If you've ever architected a hold, you might know about those pesky "unintended solutions" that can creep into your puzzle designs. Players find a way to solve your room, either in a trivial way, or through some method completely different than you intended. Well, this contest is not about those, but rather about puzzles where you completely intend to enable the player to solve a room in multiple ways. You might set up puzzle elements that can be used in different ways to clear the room, or simply have different sets of elements that can be used separate from others to solve the room in different ways. There are other custom routes you could take too -- be creative! Contest submissions are now open through July 7. Submit the most enjoyable room and win a prize!

http://forum.caravelgames.com/viewtopic.php?TopicID=35673

DROD: The Second Sky

"The Second Sky" is about two-thirds complete now, and we're quite excited about what's in store. We're wrapping up the creation of new content and now starting to tie everything together. Some fans have requested not being spoiled about what's going into the new game, and we'd like to be respectful of their personal wishes. Notwithstanding, we'll be working on showing off some more new content before too long for those who either don't want to wait or think it's a brilliant idea for Caravel to do some pre-release PR. We expect to be able to show off some more goodies by the end of summer, and some time after that, we'll be letting fans audition for some voice acting parts in the game. Stay tuned. Till then...

Happy DRODing, everyone!
---
"DROD: The Second Sky" reveal - 05-06-2013
View the teaser trailer for DROD: The Second Sky

Last month for April Fool's Day we held a multi-layered puzzle event. Those who participated in the event were able to be the first to uncover the all-new teaser trailer for DROD: The Second Sky. Congrats to Dischorran and Panther for being the first to find it! Now, you can easily view the trailer and some accompanying room images on the dedicated page we've put up for TSS on the Caravel Games site:

http://caravelgames.com/Articles/Games.html

The upcoming game is over halfway done, and the trailer shows off several all-new game elements that will be in TSS. Learn more about and discuss the upcoming game features shown off in the trailer video here:

http://forum.caravelgames.com/viewtopic.php?TopicID=35434

DROD Tactics

On April Fool's Day, we also showed off an early preview of "DROD Tactics", an all-new turn-based strategy game set in the DROD world. The game is being developed by skell in Flash. For those who are into TBS, this will be a treat!

Results for the Ninth Annual People's Choice Awards (The "Deadlies")

The players have spoken! Each year, the Caravel community has a chance to nominate and vote for their favorite new content created within the player base at large. There were many high quality holds released last year. If you're looking for more DROD and want some recommendations on something new to try out, then you should definitely check out the winners. See who won awards for the best levelsets and contents from 2012 here:

http://forum.caravelgames.com/viewtopic.php?TopicID=35490

For those who love statistics, you can see the voting breakdown here:

http://forum.caravelgames.com/viewtopic.php?TopicID=35441

Congratulations to all of the winners. Congrats, Dischorran, for being this year's recipient for the Erik Hermansen Award for Lifetime Architectural Achievement for a growing collection of highly rated holds, including Hinterlands, which was nominated for several awards this year! Dischorran receives a lifetime CaravelNet membership for his achievement.

Don't Ask Award

I'm giving RabidChild a "Don't Ask" Award for volunteering and running the Ninth Annual People's Choice Awards. Someone was needed to fill the spot of hosting this event this year. RabidChild stepped up and offered to run the event, and did an excellent job, all for which forumites were grateful. RabidChild, thank you. Please select a prize from the Prize Pile.

Till next month!

Mike
---
Fool Me Five Times - 03-31-2013
Everyone who's a fan of DROD and has been around the Caravel Forum knows that we have an august tradition of releasing some neat (with varying definitions of "neat") new DROD material and news each April 1st. Well, we won't let you down this year! So, I just wanted to send off this quick note to our stalwart DROD fanbase to let you know that you're in for a real treat this year.

I need to give a real shout-out to the Caravel development team. They have burned the midnight oil making progress on the upcoming game. If you've been watching the Progress Bar for "DROD: The Second Sky", you can tell we've arrived at a distinct amount of progress. Be prepared when April 1st rolls around, and stop by the Caravel Forum to delight in the neat news we have for The Second Sky! There's so much in store. Much more than meets the eye, so it's time to put on your puzzle hat.

That means there's no more news in this newsletter. We've been coy, but that's all about to end. You'll be seeing the rest of the news here on the Caravel Forum on April 1st. Don't miss it!

forum.caravelgames.com

Happy DRODing!
-Mike
---
The Eighth is Full of History - 03-10-2013
Gunthro CDs printed and shipping

At long last, we've received the limited-edition CD print run for "DROD: Gunthro and the Epic Blunder"! As mentioned on the forum, everyone who contributed to developing or testing the game is receiving one. Also, everyone who pre-ordered a CD will receive their copy. These ship out next week. If you have updated your shipping address, please let me know so your CD doesn't go to some guy who's never heard of DROD. Though I don't mind getting the word out, there are more efficient ways to do it.

DROD on Desura

"DROD: Gunthro and the Epic Blunder" and "DROD: The City Beneath" are now available for purchase on Desura. If you're happy to see the games on there, please go and vote on the games or write up a glowing review!

Also, everyone who purchased Gunthro on the IndieGameStand promotion in December may log in to their IGS account and receive a Desura key for the game (as long as you meet their requirements).

DROD History Month

We've concluded another official contest on the Caravel Forum, hosted by forum member Pearls. Contributors designed a hold with areas that effectively capture the feel and flavor of each of the four major DROD titles. There were a lot of great entries submitted. Congratulations to Lucky Luc for the winning entry! Please claim a Prize from the Prize Pile. And congrats to Chaco, BoyBlue and D.Craven_0ne for placing with similarly noteworthy submissions. And a big thank you to Pearls from everyone for taking Schik up on his dare and graciously hosting this epic contest.

"DROD: The Second Sky" reaches a third

According to the Bar, we're officially over one-third done with the final chapter of Beethro's story. Since the last Illumination, we've developed even more new levels and game features, including more puzzle elements, scripting capabilities, and additional hold design features and graphical improvements.

Especially noteworthy is the addition of Aleksander Kowalczyk to the Caravel team as artist and illustrator. Aleks is a friend of Skell, and he's joined up to create some beautiful new art for TSS and provide an added level of polish to the pre-existing game art. Aleks constantly exceeds my expectations with the fantastic work he does, and I think you'll all be pleased with his contributions when you see it. We're working on putting together some in-game material to show off publicly in the near future that will feature some of his work. Meanwhile, I'd like to share with you the new TSS title logo that Aleks recently designed:

[attachment]

(For those receiving this via e-mail, if you don't see it here, please come see it on the Caravel Forum at http://forum.caravelgames.com/viewboard.php?BoardID=10 )

Until next time, happy DRODing!
---
---